Bluetooth Connections
Removal from Android™ Phone
by Matthew Ford 1st August 2012
© Forward Computing and Control Pty. Ltd. NSW Australia
All rights reserved.
How to completely clear all Bluetooth connections from your AndroidTM phone
pfodAppTM for Android allows you to control micro-controllers, like Arduino, via bluetooth, from your Android phone. No Android programming required.
These are the three steps I use to completely remove one or more Bluetooth connections from my Android V2.1 phone. For making connections to see Serial Bluetooth Connections.
1) Make Sure the Bluetooth Device you want to remove is Turn OFF or out of range or not Discoverable
The phone will automatically rescan for devices when you open Bluetooth settings and will add the device back into the list if the phone can find it.
2) Unpair the Bluetooth Device
Press the phones Menu button to bring up the Menu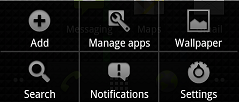 Choose the Setting option.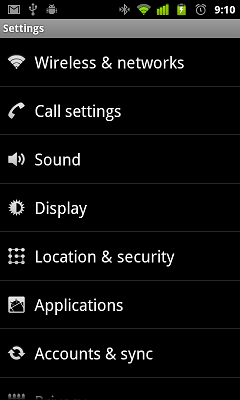 From the Setting Menu choose "Wireless & networks"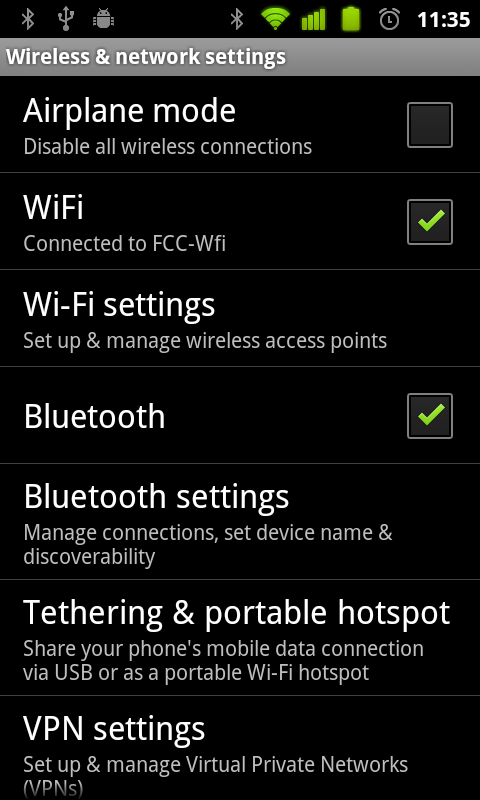 Choose "Bluetooth settings"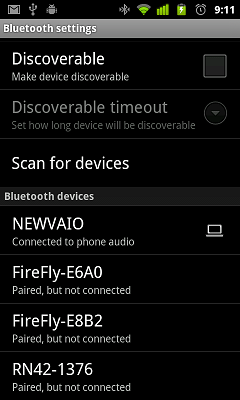 This screen lets you disable bluetooth, change the name of your phone, scan for new devices and most importantly make you phone discoverable or NOT discoverable to other bluetooth devices.
From the list of known bluetooth devices, choose the one you want to remove and press and hold it to open its options menu.
In this case since NewVaio was connection there are extra options. For un-connected devices the only option is to unpair.
Choose "unpair"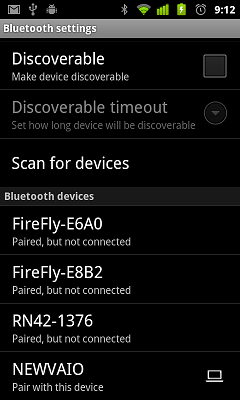 The list of bluetooth devices now shows this device as known but not paired.
3) Remove the Bluetooth Device from the List of Know Devices
As shown above, the bluetooth is unpaired, but the phone still knows about it. The phone will forget about it after a while or you can turn the phone off and on again and it will be gone.
That's it, finished. Check out my page on pfodApps if you want to control micro-devices, like Arduino, from you Android phone without any Android programming.
Android is a trademark of Google Inc., Arduino is promoted by http://www.arduino.cc/
---
The General Purpose Android/Arduino Control App.
pfodDevice™ and pfodApp™ are trade marks of Forward Computing and Control Pty. Ltd.
---

Contact Forward Computing and Control by
©Copyright 1996-2020 Forward Computing and Control Pty. Ltd. ACN 003 669 994