pfodApp™ and pfodDevice™
for Car Entry System
Andy emailed with details of this Car Entry Control using pfodApp. See the YouTube video for a short demo of his project
Here is some of what Andy had to say
"In order of buttons pressed in the video...
First is the interior lights... Which is already on a timer circuit in the
car so once the lights are activated, even when then switched off they
continue to be lit for approx 30 seconds (another one of my bits of tech
that I have put together)
Next up is the passenger door opening. Along with the green lights in the
passenger side of the window to show that the relay and hopefully the door
solenoid is working...
Third up is the drivers door... again with the green lights....
Finally is the blue lights in the windscreen... This indicates that 2
capacitance touch switches fitted to the windscreen are live and by touching
the one on the passenger side the passenger door will open and the light
will change from blue to green to show that the door is opening / solenoid
should be working and then back to blue once the timer circuit that controls
the time that the solenoid is active for switches off... There is some other
tech in there to do with doors opening and switches but I don't want to get
too boring...
The system so far seems to be working well and I'm really pleased to have
found your website and project by chance... "
Andy did all this by just extending the basic Android Controlled Light and Power sketch to drive 12 relays instead of 4. Here is his main screen.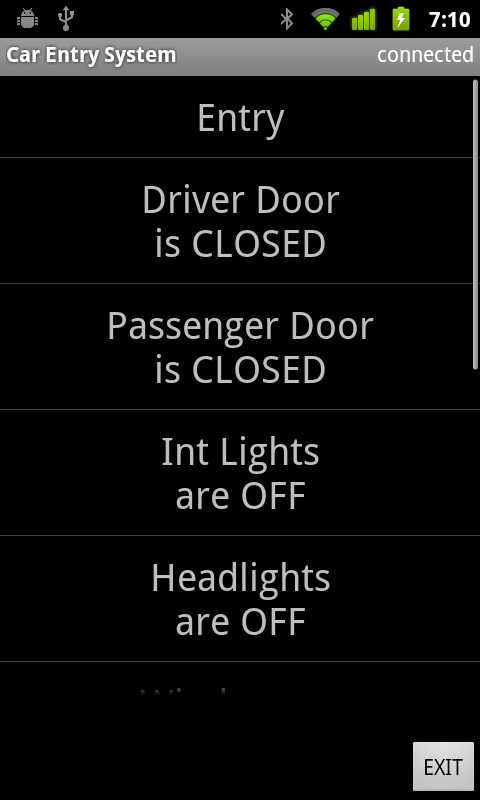 AndroidTM is a trademark of Google Inc, For use of the Arduino name see http://arduino.cc/en/Main/FAQ
Matthew Ford 16th December 2013
© Forward Computing and Control Pty. Ltd. NSW Australia
All rights reserved.
---
The General Purpose Android/Arduino Control App.
pfodDevice™ and pfodApp™ are trade marks of Forward Computing and Control Pty. Ltd.
---

Contact Forward Computing and Control by
©Copyright 1996-2020 Forward Computing and Control Pty. Ltd. ACN 003 669 994